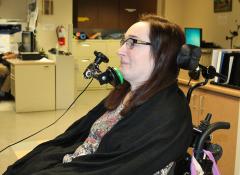 Inglis Resident Heads Back to School
Adapted technology and therapeutic education counseling helps Kristen Lech return to college.
As an art student, Kristen has struggled with a disease process that eventually made it difficult to use her hands. Ultimately, living with Multiple Sclerosis forced her to give up her dream of earning a degree and becoming an art teacher.
After coming to Inglis House, however, the staff of the Adapted Technology Program worked with Kristen and with some adaptations, she was thrilled that she could use a computer. Knowing that online academic programs would make it possible for her to earn a degree remotely, Kristen began researching the possibilities. "For a while, I was unsure of what degree might be a good fit for me but then I remembered that my math skills are damn good, so I looked into accounting." she says. Therapeutic Education Instructor Jackie Bokunwicz helped Kristen navigate the process of setting goals and applying to degree programs. Soon she had a plan for achieving her goals and was accepted in the Bachelor's Degree Accounting program at Grand Canyon University.
"Jackie really helped me maneuver my way and made the admissions process so much easier," says Kristen. "She and the admissions coordinator at the University were very helpful." Kristen will begin her coursework this spring. After she earns her BA, she will be qualified sit for Certified Public Accountant (CPA) exam. Her ultimate goal is to become a CPA and work remotely for a firm or an online tax program such as Turbo Tax. "I am so excited to be able to use my skills and brains for a good purpose," says Kristen.