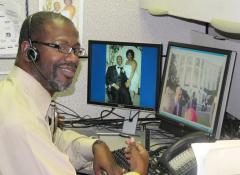 Belden Jones
"Life didn't end and I'm not sitting around."
Belden came to Philadelphia for a new job — and all the excitement that comes with it. He was the first seafood manager of the Chart House on Penn's Landing. At a restaurant chain known for its fish, being seafood manager is a major responsibility. The management had faith in Belden. He was a veteran employee from their Savannah, Georgia facility. Philadelphia was his big break.
Philadelphia was an eye opening experience.
"I love Philadelphia, especially South Street!" Belden says. The only-child Brooklyn native and Georgia transplant had found his home. "I called my grandmother and said that I'm never moving back."
That was a tough call — for both of them. She raised Belden after his mother left him and his father soon after. Belden had deep roots in Georgia, and some pretty impressive mentors — like Larry "Gator" Rivers, of the Harlem Globetrotters. Belden played AAU basketball for Rivers. "I got to know some of the Globetrotter tricks," he says with a smile.
The Chart House started well. Belden had a son, Belden Junior, born on Belden's birthday and the pride of his life. He was in a city he loved. But the promotion never came and his frustration built.
Restless at work, Belden decided to strike out on his own. He started by picking up a job tending bar at a local pub. For a while he worked for Fresh Grocer (now Whole Foods).
Discouraged and depressed about his job situation, Belden drank more and more. The grocery job well behind him, he spent most of his days behind or in front of a bar and hanging out with buddies on the streets.
"All I did was fall down," Belden remembers. "I tripped over my own feet."
It wasn't like Belden just misplaced his feet while walking down the sidewalk. After a long night out, he didn't have his full wits about him.
"A friend found me and picked me up," he goes on. "He was trying to get a better grip on me when my head snapped back. He carried me to my apartment. When I woke up the next morning, I couldn't get up. Someone called 911."
Belden called his grandmother with the news: he'd never walk again. She was defiant. "Let no man tell you you'll never walk again!" she declared. The next day during a standard test for foot response, Belden said "ouch!" He had his miracle. Belden had a chance.
Belden's path to recovery took him from just a few weeks at Thomas Jefferson Hospital to what looked like a long term stay at the Methodist Nursing Home. "I was the youngest there," he recalls. "I didn't like it. But those old ladies took care of me. I didn't like to eat in the dining room. One started cooking dinner for me every night. I still get gifts of food!"
As good as the care was from the staff and friends at the Methodist Nursing Home, it was clear that it wasn't a permanent solution. That's when he found Inglis.
For Belden, forever loyal to what Inglis has done for him, Inglis is a stop on the journey, not the final destination.
"My goal is independence: to have my own house," he says with pride, "and my son is my motivation."
That's especially important since meeting the woman of his dreams. Three years after meeting Maxcine, they were wed in the Inglis Courtyard. With two, it's cramped in the one-bedroom flat.
It's easy to see why he would catch the eye of someone special. Belden's outgoing personality and his inner drive come through in all he does. "It's been ten years and things continue to get better," he tells us.
Belden's not only active in the Inglis community. He serves in local and state nonprofit and government programs. He even joined 300 others from across the US and other nations for a week in Washington, DC to chart the progress of the ADA and discuss its future innovations.
"I am not giving up," he tells us. "Life didn't end and I'm not sitting around."
In fact, since the day he heard his grandmother's voice over the hospital phone, Belden's worked on doing more than sitting. Although his mobility is clearly compromised from his fall, Belden has developed motor skills well beyond what was initially expected. "Without Inglis, I don't know where I'd be," he says.
"I'm not stopping," Belden says with the same certainty as his grandmother — who passed away several years ago. "My son is my inspiration. I'm doing what I do to show my son that nothing should stand in your way."
Knowing Belden, it won't.