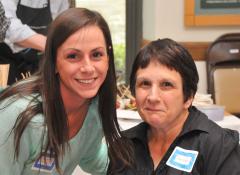 Helen Cooney - Inglis is where the heart is
For the past nine years, Helen Cooney has volunteered her time and talents twice a week to the residents and staff of Inglis. But what's truly exceptional about Helen is that she also lives with cerebral palsy. Her disability allows her a greater understanding of the challenges that residents face on a daily basis. I should know this first-hand because she is my mother. My name is Lauren Cooney and Helen is my inspiration.
Helen was introduced to volunteering at Inglis in 2007 as a way to help stave off "empty nest" syndrome once I left for college. Kismet, and some strong motherly encouragement, brought me here in 2013, when I joined Inglis' Development & External Affairs team. Since her first day, Helen immediately became an important part of the Inglis Community, and has truly loved every day that she has spent with the residents and staff.
As a person living with cerebral palsy, Helen has a unique understanding
of the challenges residents at Inglis House face every day.
Helen primarily works in the Nook, Inglis' on-campus convenience store, with resident Gail Bluford. She met Gail on her first day volunteering and they instantly connected. She also assists in transporting residents from their rooms to the array of therapeutic and recreational programming offered at Inglis.
Referred to by certain staff and residents as "Aunt Helen," it is not hard to tell how much my mother cherishes her time at Inglis. I see it on her face and in the stories she shares. My mom sees each day as a new opportunity to do something special, and she goes out of her way to help make it special for those she visits, too. When I heard she personally wishes a happy birthday to each and every resident on their special day, I didn't doubt it. That's my mom. What she gets out of volunteering is equally rewarding, and she once shared with me that she believes "volunteering at Inglis has been good for my health both physically and emotionally. The relationships I have built with residents and staff inspire me to face my own challenges every day."
Rarely does a day go by that I do not get a phone call or text message from her telling me how proud she is of me. But, in reality, I am the one who is proud. My mother's optimistic outlook on life and how she faces adversity daily is the best lesson she has ever taught me. Thank you, Mom.
— Lauren Cooney