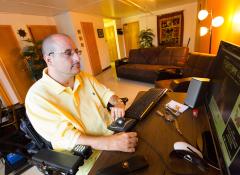 Micki Greenstein - Taking a Chance on Independence
When Micki Greenstein, who lives with paraplegia, was almost 21, he knew he'd have to move out of the Woods School, where he'd lived since his diving accident as a young teenager. Then, a bus driver at the School took him to see Inglis House and Micki knew he'd found a new home. "Living at Inglis House helped me to learn just how much I was capable of doing on my own," he says.
Several years later, a friend who lived in Inglis' Morris-Klein Apartments told Micki about a vacancy there. "I was skeptical but realized that he had even less mobility than I do," he says. Since moving into his apartment in 2002, Micki has never looked back. In fact, he has earned a college degree, worked as a volunteer coordinator and even helped others make the same transition.
However, Micki admits there have been challenges. "Back then, after your caregiver left at 9 p.m., you were completely alone. That was difficult, but I got over it," he says. Now, when others are considering making a move they come to Micki for answers and advice.