Self-Determination Housing of Pennsylvania (SDHP)
Regional Housing Coordinator Program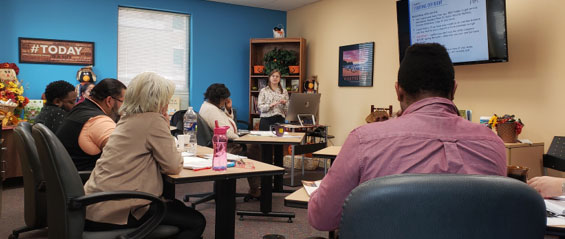 The Regional Housing Coordinator (RHC) program works at a systems level, advocating for accessible and affordable housing opportunities for individuals with disabilities throughout the Commonwealth. We partner with stakeholders, service providers, disability organizations, etc. to bridge the information gap between the housing and disability communities, to promote partnerships that enable people with disabilities to choose and control their own housing, and to increase access to affordable, accessible, and integrated housing. These goals are accomplished in the following ways:
Education
There are a number of trainings that we offer that are free and open to the public. These are offered on a regular basis. Our typical training topics are:
811 Project Rental Assistance Overview: teaches about the 811 PRA program and how you can become involved
Addressing a Housing Crisis: works through how to walk someone through a housing crisis
Assistance Animals: discusses assistance animals, emotional support animals, reasonable accommodations and modifications, and more
Eviction Prevention and Processes: reviews the eviction process while giving helpful tips to prevent evictions for your clients
Navigating Income-Based Housing Options: goes over general housing information and definitions, income-based housing types, and applying and appealing processes
Prepared Renter Education Program (PREP): walks through the renting process, helping service providers in assisting their clients with finding, obtaining, and maintaining housing
Home Modifications: tells about who qualifies for home modifications, how they can request them, and how to best navigate funding resources. Landlord responsibilities and tenant rights are also covered.
To learn more and to register for our regularly scheduled programming, see our calendar.
To request a private training session for your organization, please follow this link. (Link opens in a new window)
---
811 Project Rental Assistance (PRA) Program
The 811 Project Rental Assistance (PRA) program is a statewide housing subsidy program specifically for people with disabilities. SDHP collaborates with Pennsylvania Housing Finance Agency (PHFA) and Department of Human Services (DHS) to administer the waiting list and to provide education, technical assistance, and outreach to fill the 400 units committed to the 811 PRA program throughout Pennsylvania.
The 811 PRA program prioritizes its waiting list in the following Priority Populations and their living situations:
Institutionalized, but able to live in the community in permanent supportive housing,
At-risk of institutionalization with no permanent supportive housing, and
Congregate Care Setting and desires to live in community.
The 811 PRA Program Eligibility:
Priority Populations,
Individuals must be 18-61 at the time of lease up,
Individuals must have a disability,
Individuals must be MA eligible,
Individuals must be at or below 30% Area Median Income, and
Certain criminal histories will make individuals ineligible.
---
Technical Assistance
SDHP staff are available to assist service providers as they navigate housing with their clients. Service providers are encouraged to reach out to their local Regional Housing Coordinators (RHCs) for support and guidance related to things such as: searching for housing, landlord relations, etc. A technical assistance request can be submitted by emailing SDHPInfo@inglis.org with details related to your client's situation and their overall housing needs.